19-Jun-2012
Home -> Computer Repair Service
Singapore Computer PC Repair Service for Notebook / Laptop / Server / Personal Computer (PC)
Express Onsite Singapore Islandwide
Your computer has broken down and you are frantically searching for a Computer repair service in Singapore?
We are a professional computer repair service provider in Singapore, equipped with highly competent, reliable and dedicated computer repair specialists ready to assist you in resolving any computer related repair work. For over 10 years and we are going strong!
We provide On-Site Computer Repair Services for any customers located in Singapore. Clienteles using our compair repair services comes from all demographics - SOHO / SME / MNC / International clienteles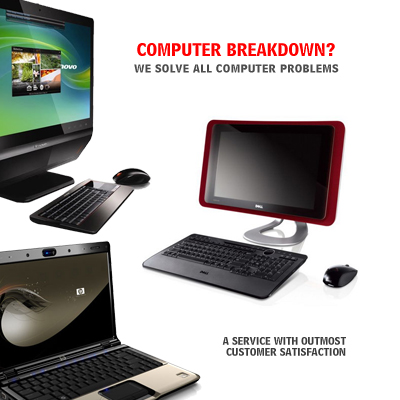 Our Computer Repair Service includes:
* Computer hardware & software repair and troubleshooting
* Computer PC, Laptop & Server repair and system upgrading
* Computer network repair and troubleshooting service
* Annual Maintenance Contract for computer repair
* We repair Apple Macbook, Macbook Pro & iMac Computer too!
Still not convince that we are an ideal computer repair service provider and need more reasons why you should use our Computer repair and troubleshooting services?
(1) Our Technical IT support staffs are technically trained and highly skilled with years of working experiences in the IT business segment. Most of them are Cisco Certified Network Administrator (CCNA) and Microsoft certified
professional (MCP)
(2) We have been in IT Support and Computer Repair / Troubleshooting services for over 10 years and have been highly regarded in the computer industry. Full fledge Computer Repair facilities fully dedicated to repair work, unlike many computer repair service man who is on Freelance basis that do not have the proper place for their customers.

(3) Our years of experience in this industry have gained us valuable insights to all aspects of computing problems for your PC, Notebook and Servers. (All brands & made) Our experience allows us to diagnose and resolve most system faults swiftly.
Other IT Services:
System Troubleshooting, System Upgrade & Integration, Mission Critical Server & Networking Services, Laptop LCD replacement services, Motherboard Repair, Apple Macbook and iMac repair services
Services mentioned above are examples but not limited to those. So please contact us for further details about our Computer Repair Services avaliable for Singapore and International Clienteles.
For IT VENDORS who are COPYING us. Please read (COPYRIGHT) NEW - READ THIS FOR COPYCAT