24-Jul-2012
Fastest Server Repair Services, Guaranteed minimum server downturn, Shortest turnaround time and Server up in no time! - Singapore Islandwide
Technofied Vision full fledge IT support services, is capable of handling all server downtime emergency request! Equipped with highly experienced Server Engineers, we are able to efficiently Diagnose the Server Issues, Repair the Server Problem in no time, and thus guaranteeing the server is up and running within shortest time possible.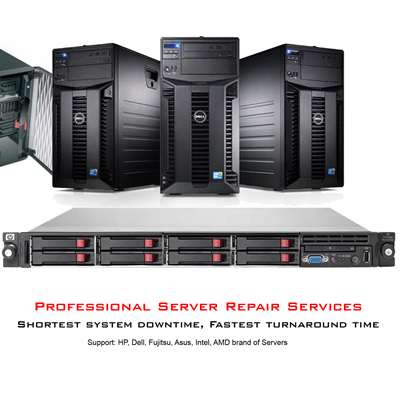 Shortest turnaround time in restoring your server functionality, you can be assured the server will be repaired in no time.
For customer who uses our Server Repair Services, Lost office productivity from server breakdown has always been kept at its lowest level. Our Server Repair Services are available Singapore Island wide, Guaranteeing highest level of customer satisfaction, our server repair services have been highly valued by many customers from all sizes of companies, including SME, Government Sectors, and Private Sectors to the Large Enterprises!
Technofied Vision vast among of experience in server repair, the technical team is able to repair all brand and model of server available in today's server market! We repair server of reputable brands including HP Server, Dell Server, Fujitsu Server, Compaq Server, Asus Server and many more to be mentioned!
We repair servers of all categories, from the basic Workgroup Server, to the technically High Availability Mainframe Server. Tell us your server model and brand, we will Repair them!
Call us today for immediate server breakdown assistance – Fastest Server Repair Services, Guaranteed minimum server downturn, shortest turnaround time and Server up in no time! - Singapore Islandwide Services

Some of the server repair jobs we have undertaken includes:
Server not powering up that require chip level repair, server motherboard logic board repair… Server operating system repair / troubleshooting… Server spare parts component replacement and many more to be mentioned!

Call us today at +65 6742-0877 and our server repair engineers will be right at the door steps to assist you!