Hard Drive Recovery
Data Recovery for all Brands, and Models of Hard Drives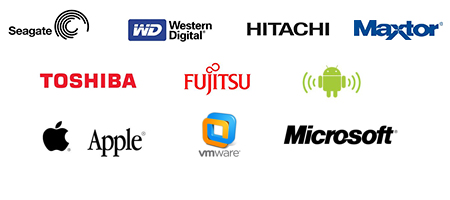 Our Data Recovery Services retrieve all lost data from all types of Hard Drives, and when data value is of outmost priority, data recovery services from us is usually recommended. Our modern clean room facility with advance data lab recovery equipment would reassure our clienteles their data would be recovered safely, securely, and confidently.  
Comprehensive Hard Drive Data Recovery Services
Internal Hard Drive Recovery
Hitachi
Seagate
Maxtor
Western Digital
Samsung
All other OEM Hard Drive brands supported
External Hard Drive Recovery
Buffalo
Linksys
Dlink
Qnap
Synology
All other OEM external drive brands supported
Hard Drive Recovery Interfaces
Serial ATA (SATA)
IDE
SCSI
USB
Network Attached Storage (NAS)
RAID Array
PCI Express
Solid State Drive
Why our Hard Drive Recovery Services
Doctors from Medical institutions, Business professional from Financial institutions, Marine and Aerospace industries, Private & Public sectors and individuals. People from all over the world comes to us for thier data recovery needs! "70% of our Data Recovery Jobs are recommended by existing clienteles is simply a testimonial of high quality data recovery work!
In many cases, our data recovery capabilities resolved many complex data recovery scenarios, and successfully bring clienteles valuable data data back to life again! These could be instances of completely damaged hard drive recovery, lost data recovery, deleted files recovery, corrupted files recovery or employee's sabotage data recovery; Time after times, we have amaze clienteles with very high success rate! Call us today to speak with our consultant for your Data Recovery requirements for a peace of mind data recovery experience.